Venues and Activity Areas
Hood Scout Reservation has facilities that can be rented & reserved via our Online Reservation System by groups both inside and outside the scouting program.  For more information about using HSR please contact the Council Service Center. 
Constructed in 2018, the McLarty-Cooke Council Arena is a premier venue for large gatherings.  Complete with full and modern multi-media capabilities, the Arena is a beautiful setting after a fun day at camp.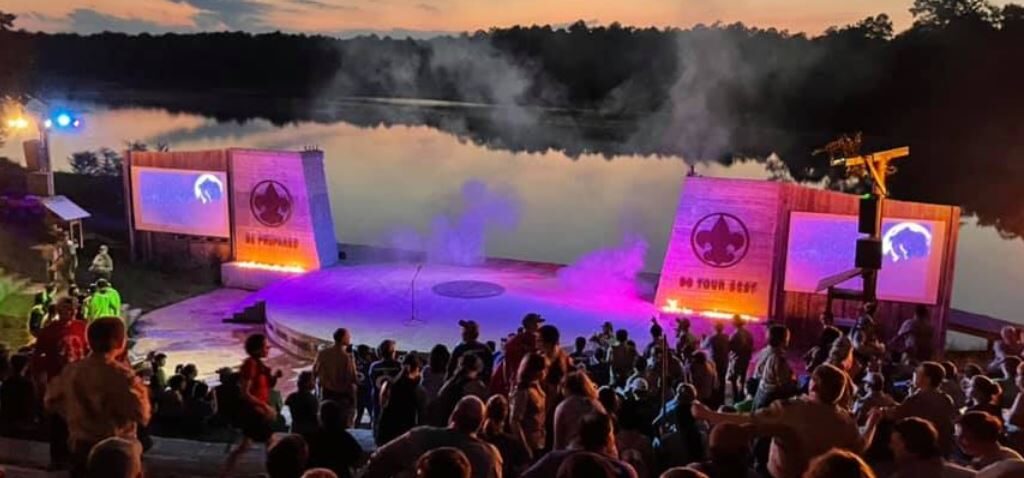 The Hood Scout Reservation Challenge Course has two climbing sides, a 48' repelling side, a 30' repelling side, dual zip lines, an eight-element safe roller course, Swing Choice, and a C.O.P.E. Course.
We have a group of NRA certified instructor/Range Officers available to teach the shooting sports merit badge, teach the NRA training courses and provide shooting sporting opportunities for youth. Instruction can be conducted as part your unit meetings or at camp on the weekend. Shooting takes place using camp guns, ammo, & targets at Hood Scout Reservation. 
Archery is a popular skill taught in our dedicated area.
ATV, Mountain Boarding and Biking
The Johnson Family Boating Area is located on our 110 acre lake and hosts summer programs like Motorboating, Rowing, Canoeing, Kayaking, Paddleboating and Sailing.
Canoeing, Kayaking and Paddleboarding are available for rental at HSR during the off season.  
The Kickapoo area includes the Blob and Dual Water Slides and is named for the council camp that served the youth of Andrew Jackson Council from 1930-1986. 
Great youth-centered meals are provided in the Dining Hall. Professional cooks prepare all meals and menus under the direction of a dietitian and our Food Service Committee. 
The Trading Post provides some camping essentials, memorabilia, t-shirts, patches, cups, snacks, ice cream, drinks, and of course our famous slushes. Cash and cards are accepted.
During resident camps, the Health Lodge is staffed 24 hours a day by two highly qualified healthcare professionals. Medication storage is located there. too. Please note that our Health Lodge staff cannot offer physical exams.